London Rock: The Unseen Archive – Photography by Alec Byrne – Signed Copy
$95

Tour the rock-and-roll scene of the '60s and '70s with some of the biggest bands from Britain and around the globe in this collection of Alec Byrne's stunning photography.
Through the 1960s and into the '70s, young photographer Alec Byrne covered the exploding rock-and-roll scene in London. Legendary British artists—such as the Beatles, the Rolling Stones, Led Zeppelin, the Who, and David Bowie—roiled the capital to the core along with groundbreaking American musicians such as Chuck Berry, Jimi Hendrix, and the Doors. The vibrancy of Swinging London provided provocative fodder for the talented lensman, capturing the height of a cultural revolution. Byrne's resulting voluminous collection of rock-and-roll photos disappeared out of sight, kept in storage for the following forty years. This incredible archive is now presented for the first time in a gorgeous deluxe edition, enclosed in a lavishly designed case.
Through rare live performance images, intimate portraits, and candid captures of the scene, London Rock: The Unseen Archive brings the era into stunning focus, painting an evocative picture of an inimitable time and place.
In stock
Categories: Alec Byrne, Books, Catalogs, London Rock
Tags: 1960s, 1970s, Alec Byrne, Black and White, Bob Marley, Book, Books, Color, Cool Clothes, David Bowie, Icon, Iconic, In Concert, In The Studio, Jimi Hendrix, John Lennon, Keith Richards, Marc Bolan, Marquee, Mick Jagger, Paul McCartney, Psychedelic, Ready to Ship, Rock, Rock Stars, Roger Daltrey, Rolling Stones, Roy Orbison, rpmbook, The Beatles, The Who, Under 150, Under 500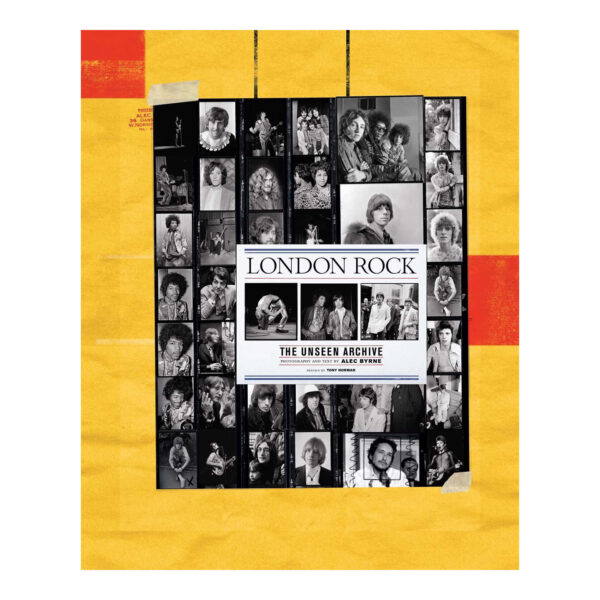 I BECAME FRIENDS WITH ALEC BYRNE IN 1968 when we met at a Beatles press reception in London. I was writing for a teen magazine called Jackie, back when such magazines sold one million copies a week. Alec was a freelance photographer who had, at the age of eighteen, somehow managed to get the gig shooting the premiere for the New Musical Express. The scene was utter chaos—anything involving the Beatles usually was, but Alec wasn't intimidated by the moment. In fact, as I would come to learn, Alec never got overwhelmed. He was always in control, took the time to get the shots he wanted, and never seemed hurried. More than that, he had a love for the work and for life that was infectious. I liked him from the start. So it's a kick, fifty years on, to be writing this preface for Alec after all this time.
Alec had moved to London from Dublin with his family in 1959. He remembers, as a ten-year-old boy, seeing the city as a place where life was far from easy. That was true, but London was in a process of transition. To fully appreciate how the London rock scene grew and ourished in the '60s and '70s, it's important to take a step back and look at the way the old was being confronted by the new, forming the two faces of London.
from the Preface "Two Faces of London" by Tony Norman
London Rock: The Unseen Archive
Related products